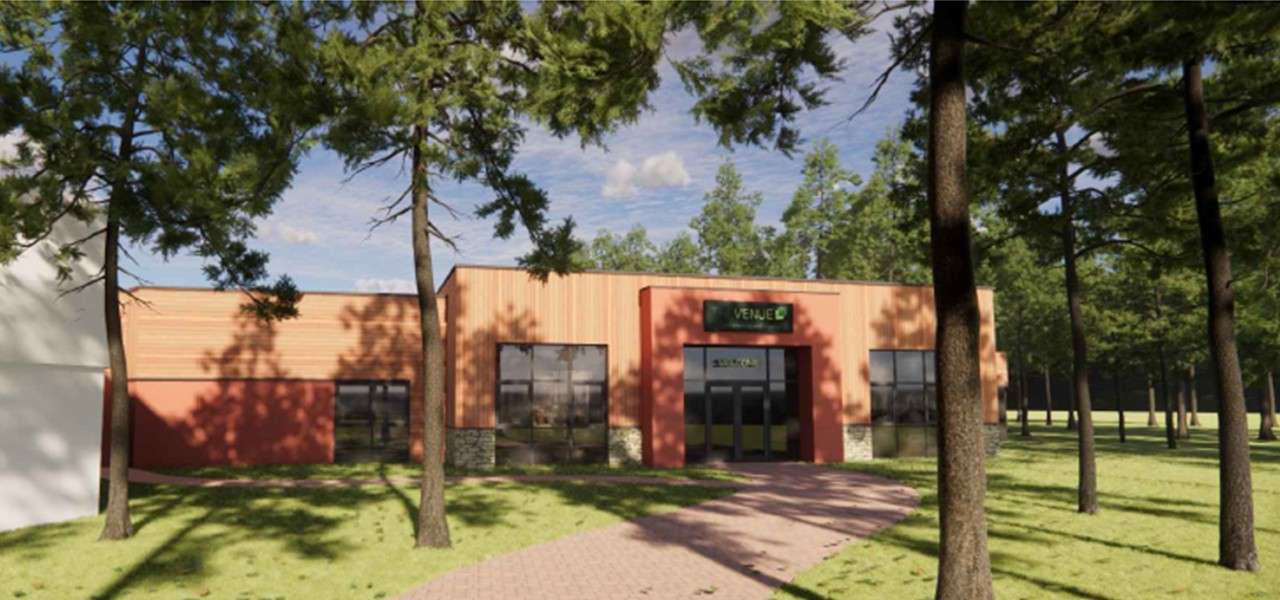 We're thrilled to announce that The Venue at Sherwood Forest is undergoing a multi-million pound transformation. The Venue is now closed whilst the redevelopment works take place, and it will reopen this winter with a brand-new look, layout and experience for delegates.  Here's a sneak peek at some of the biggest changes you can expect to see on your next visit to our newly transformed conference space.
A major extension

One of the most exciting changes is a major extension to the building, which will also include a dramatic transformation of the interior layout. The additional area will include a new Chestnut Suite overlooking the lake, a new welcome and reception area, and a business centre which can be used as a base for event organisers. It will also include new unisex toilets, a new kitchen, cloakroom and storage.
A new entrance and welcome area

Our brand-new entrance and welcome area will form a key part of the redesigned conference space. The main entrance will be moved to a new location overlooking the lake, and the new front elevation will have a modern, clean design which is sympathetic to the forest surroundings. Delegates will step inside into the spacious, newly refurbished welcome area, with extra-large windows offering beautiful views over the water.
A new design style inspired by the natural world

The new design concept uses décor and furnishings inspired by the beautiful forest beyond the windows, making use of natural materials, textures, shapes and colours for a luxurious feel. The muted colours, wood, stone, plants, feature lighting and cosy seating will all come together in harmony to create attractive, welcoming and relaxing spaces for delegates to enjoy.
Two new outdoor terraces
The transformation also includes the addition of two new outdoor terraces, one overlooking the lake and one overlooking the forest. Being immersed in the natural environment is one of the major benefits to holding an event at Center Parcs, and our new open-air terraces will provide additional spaces for delegates to relax, network and simply enjoy the great outdoors together.
State-of-the-art AV and lighting systems
The Venue's transformation also includes a number of exciting AV and lighting upgrades, all designed to offer a bespoke and personalised experience for each event. Every meeting room will include an easy-to-use tablet style touchscreen, which controls the projector, screen, lighting and sound/microphone. It can be used in individual room mode, linked to any room combination or for the whole Venue for large-scale events. Delegates will also benefit from super-fast WiFi throughout the whole of The Venue, customisable coloured lighting (red, green, blue or clear), and digital screens to welcome and direct delegates (which can be personalised with client logos).
About The Venue at Sherwood Forest
Nestled in a magnificent pine forest in the heart of Nottinghamshire, this East Midlands conference venue is centrally located and easily accessible via the A1 and M1. The Venue offers a variety of versatile meeting and event spaces, and can accommodate up to 550 people for a conference.
We're taking bookings for events at The Venue, Sherwood Forest, from winter onwards. To find out more or book a site visit, get in touch and follow us on LinkedIn or Instagram.