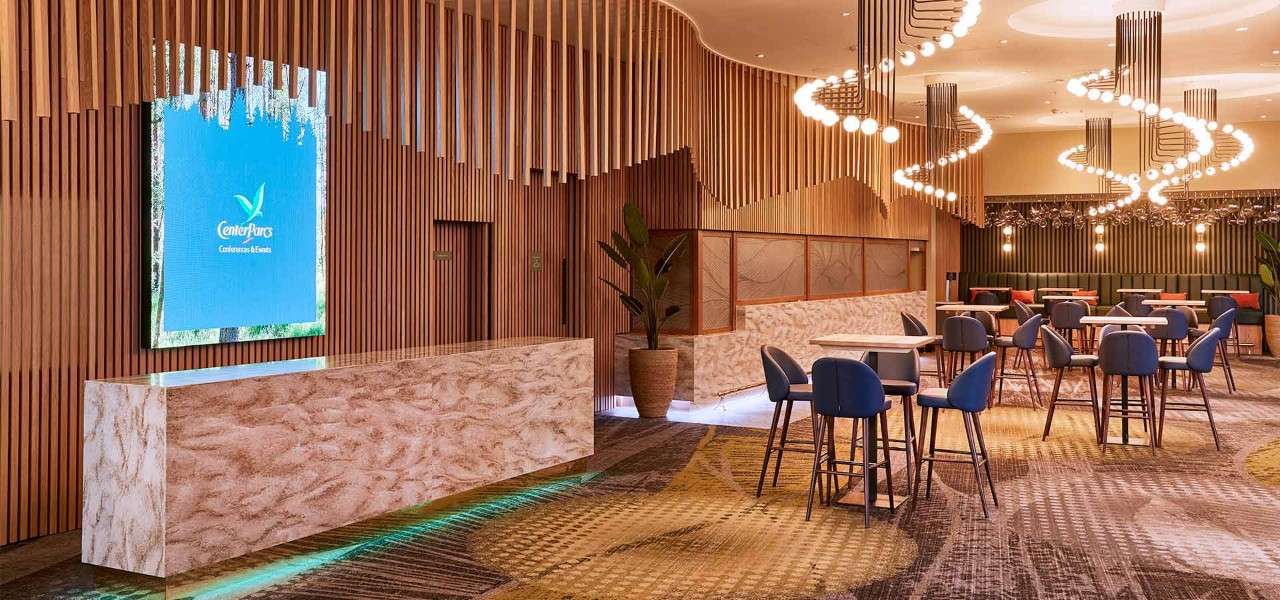 September 2022 saw the much-anticipated reopening of The Venue at Woburn Forest after a major refurbishment. Over the last few weeks, we've been delighted to see delegates from a wide variety of businesses and organisations returning to the forest and making the most of our newly transformed event space.
Our conferences and events team are really enjoying the new look and feel too! Here are our five favourite features of The Venue following its refurbishment.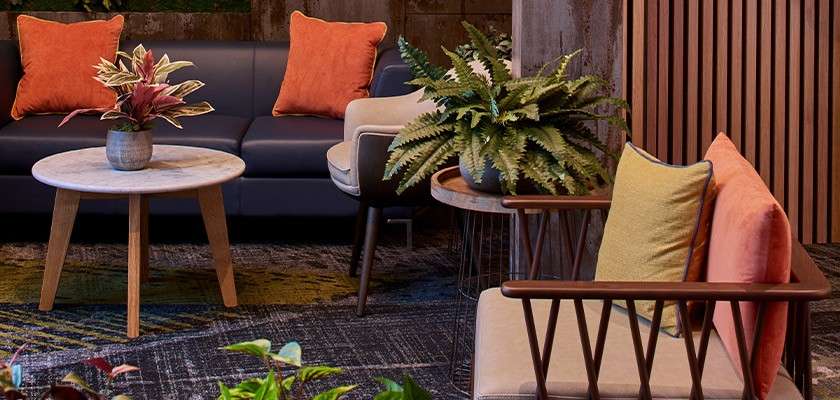 The new reception area
First impressions matter, and our reception area truly sets the tone for the rest of our conference and events space. It 'brings the outdoors in' with a living wall, striking views of the forest, wood panelling and a natural, muted colour palette. We also added feature lighting and a cosy seating area to help create a visually appealing, relaxing environment for delegates to enjoy.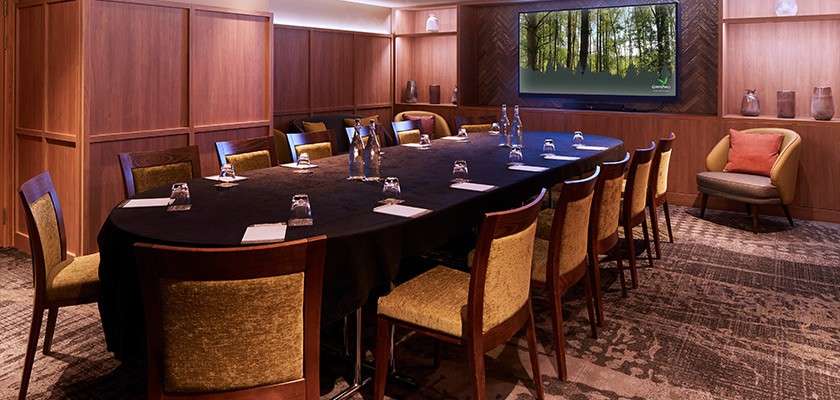 The Green Room
The Green Room has a slightly different look and feel to the rest of The Venue. It has been refurbished to a superior standard, with a range of luxurious touches including comfortable executive furniture and an extra-large LED screen – making it an ideal room for VIPs or executive level meetings.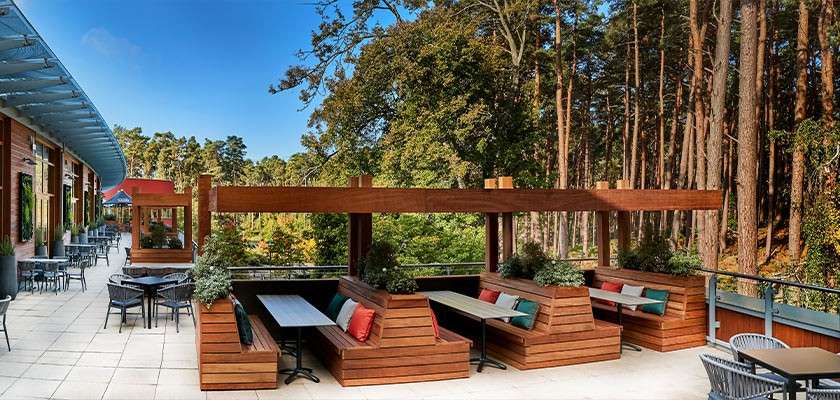 The Terrace
One of the major benefits of holding an event at The Venue is, of course, being immersed in the beautiful natural environment. Each conference room has doors opening directly onto The Terrace, which offers striking views over the forest. The Terrace has a range of seating options, including wooden booths, as well as some covered areas – making it a lovely space for delegates to relax, network and enjoy the great outdoors, whatever the weather.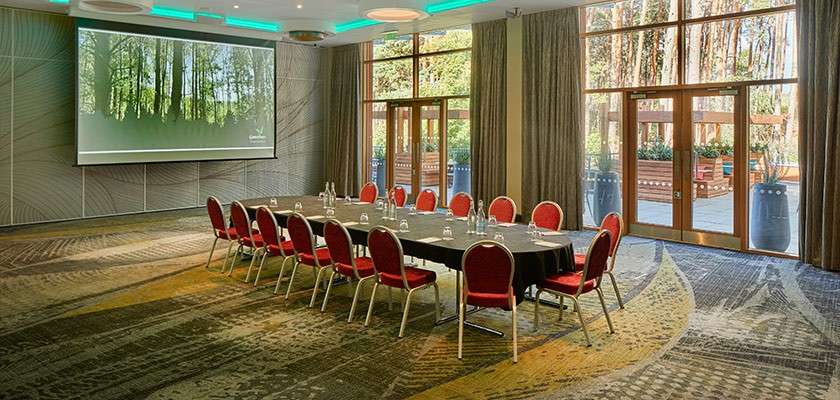 State of the art AV and lighting systems
The Venue's transformation also includes a number of exciting AV and lighting upgrades, all designed to offer a bespoke and personalised experience for each event. Every meeting room has an easy-to-use tablet style touchscreen, which controls the projector, screen, lighting and sound/microphone. It can be used in individual room mode, linked to any room combination or for the whole Venue for large-scale events. Delegates will also benefit from super-fast WiFi throughout the entire Venue, customisable coloured lighting (red, green, blue or clear), and digital screens to welcome and direct delegates (which can be personalised with client logos).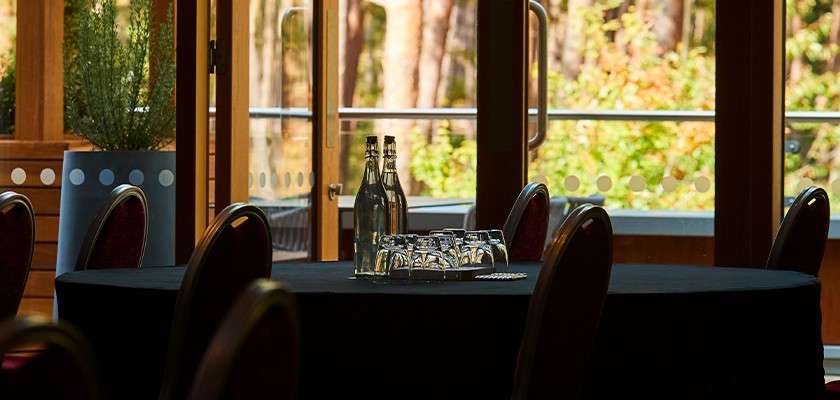 The view
Of course, we couldn't forget the panoramic forest views that really set The Venue apart from other conference and event spaces. Being in nature is known to have profound positive effects on our mental health and wellbeing – so having those striking views right outside the window, as well as opportunities to enjoy some recreational time in the forest, is a great way to help delegates feel their very best during the event.
If you've enjoyed reading about our refurbished Venue in Woburn and you're interested in holding an event with us, please get in touch and our team can help you build a bespoke package, or book in a visit so you can come and see The Venue and our beautiful forest for yourself.